26 September 2019
In 2016, during an event in South Korea, Hyundai Motor Company revealed to the public a compact liftback with five doors and seats, called IONIQ. Its official European and American debut was during the 2016 Geneva International Motor Show and NYAS.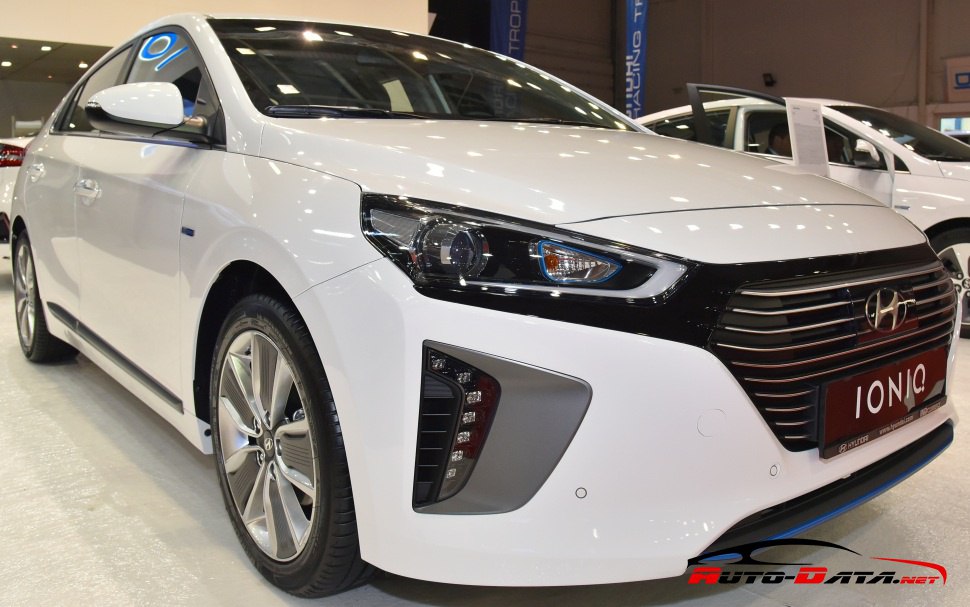 At the time of its premiere, IONIQ was available as a hybrid and electric vehicle. A year later, in 2017, the plugin version rolled out of the production halls. The hybrid version includes a 1.6 GDI (141 hp) engine under its bonnet, combined with a lithium-ion battery with 1.56 kWh capacity. The car's electric motor has a power of 44 hp and 170 Nm (125.39 lb.-ft.) torque. As an estimated system power, IONIQ hybrid has 141 hp at 5,700 rpm. System torque is calculated to be 265 Nm at 4,000 rpm. (195.45 lb.-ft. at 4000 rpm.). The official specs state that the ICE has a power of 105 hp at 5,700 rpm., while the torque is 147 Nm at 4000 rpm. (108.42 lb.-ft. at 4,000 rpm.). The powerplant itself is positioned front, transversely. The implemented fuel system is direct injection. IONIQ hybrid's kerb weight is 1370 kg (3,020.33 lbs.), while the maximum is 1870 kg (4,122.64 lbs.). The demonstrated lightness is achieved by using aluminum and steel for the non-structural components of the car. The Hyundai's model sports 4,470 mm (175.98 in.) of length, 1820 mm (71.65 in.) of width, 1450 mm (57.09 in.) of height and 2700 mm (106.3 in.) as a wheelbase. The low drag coefficient of 0.24 is due to the successful aerodynamic design. Hyundai used McPherson as front suspension and multi-link independent as rear one.
The electric version of the IONIQ has a battery with 28 kWh capacity and an all-electric range of 280 km (173.98 mi). The electric motor has a power of 120 hp and torque of 295 Nm (217.58 lb.-ft.). Officially estimated system power is 120 hp with an average energy consumption of 11.5 kWh per 100 km. IONIQ EV is a bit heavier and bigger in size, compared with its hybrid version. The kerb and maximum weights are 1420 kg (3,130.56 lbs.) and 1880 kg (4,144.69 lbs.), respectively. The dimensions' number are the same as those of the hybrid. The same is valid for the drag coefficient – it's also a 0.24. A big difference comes from the type of rear suspension. It's a torsion. The electric Hyundai has a top speed of 165 km per hour (102.53 mph) and is capable to accelerate from 0 to 100 km/h in a matter of 9.9 seconds.
Hyundai IONIQ's plug-in arrived in 2017, sporting a combination of petrol and electricity. The ICE has a power of 105 hp and a torque of 147 Nm (108.42 lb.-ft.). It's positioned front, transversely. The plug-in uses an 8.9 kWh battery. As a power, the electric motor has 61 hp and 170 Nm (125.39 lb.-ft.) for torque. The vehicle's system output is 141 hp at 265 Nm (195.45 lb.-ft.). It takes 10.6 seconds for the car to jump from 0 to 100 km/h. The announced top speed is 178 km/h. IONIQ's PHEV version is significantly heavier than the rest of the cars in the model's line. Its kerb and max. masses are 1495 kg (3,295.91 lbs.) and 1970 kg (4,343.11 lbs.), respectively.
Right after its official debut, Hyundai's IONIQ EV is announced to be the most efficient vehicles on the market according to EPA. Its sibling, the Blue hybrid, also received worldwide recognition as the most efficient mass car in its class.
An intriguing fact is that IONIQ hybrid managed to surpass Toyota's iconic Prius model in terms of fuel economy.