28 March 2019
For almost 25 years we are used to seeing one of the best sellers of Toyota - the RAV4 SUV model. Now the new fifth edition comes to the scene for its debut. Much has changed in the two decades since then. Compact crossover has grown in actual size, and segment growth shows no signs of abating. RAV4 is currently the best-selling vehicle in its class, doubling volume over the last five years. But things are changing.
Aggressive, tough or just masculine?
The new RAV4 2019 edition has a strong and powerful presence.The front is stunning. The big grille and swept-back headlights make it really stylish and more masculine. Fog lights are perfectly positioned to lighten up the road excellent. The new 17 or 19 inch alloys with black cladding add some character to the handsome profile. The model attracts with its measurements - high ground clearance, low roofline, and long wheelbase. The chunky fender flares signal an off-roady look. At the tail, Toyota now has a SUV with a clean, stylish profile. Some trim levels offer the high-mounted taillights connected by a panel painted in a contrasting shade.
At the core of the new RAV4 is the TNGA-K version. Dimensions slightly differ from the old model:
30mm-longer wheelbase
5mm-shorter body (4600mm)
10mm wider (1855mm)
10 mm lower (1700mm)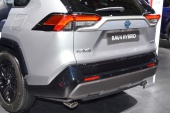 Interior
Stepping inside we enter a spacious and comfortable lounge full of renovations and new technologies. The presentation of the cabin is appreciably upscale in terms of look and feel. Toyota did a nice job differentiating trim levels with unique upholstery patterns matched to stitching and plastic elements. A significant thing is the new digital HD rearview mirror, that gives a perfect picture of what is happening behind the vehicle. Another change is in the AC vents. Now the circular front vents are replaced by rectangular ones, and there are two additional AC vents for the rear seats. While the driver's seat is 6-way adjustable, the passenger's doesn't adjust for height in any trim. It sits high, which cuts into head room considerably with either the conventional moonroof or the much larger panoramic moonroof. The front seats are comfortable, with good support and available synthetic leather upholstery that feels like the real thing and will probably hold up better. Rear-seat occupants will find a bench that sits low to the ground to allow for more head room and the doors open wider than the outgoing model. The instrument panel has also been lowered and the glasshouse grows – a rare feature in modern cars – to provide better over-the-shoulder visibility for the driver. The interior offers more convenience and tech than it did in the past, starting with the Entune 3.0 infotainment system. This includes features such as Apple CarPlay (no Android Auto), Amazon Alexa, Bluetooth phone compatibility and music streaming, Siri Eyes Free, a 6-speaker audio system, and a 7-inch touch screen. Upgrades include an 8-inch screen, five USB ports, and 800-watt JBL audio system with 11-speakers. This audio system probably provides clear, rich sound. Other new features include a Qi wireless smartphone charger, and heated steering wheel and ventilated seats.
A wide pocket for smaller items such as smartphones, pens, or gum packs toward the passenger side of the dashboard adds some charm and relieves what would otherwise be a wide expanse of plastic. Active safety tech such as Automatic emergency braking with pedestrian detection, Adaptive cruise control, and Active lane control is standard on every RAV4. Most trims offer Blind-spot monitors and Rear cross-traffic alerts. The fifth generation RAV4 comes with eight airbags, Stability control, and Anti-lock brakes.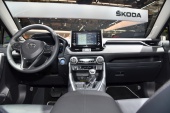 On the road … and off it
The heart of this vehicle is a 2.5-liter, naturally aspirated four-cylinder petrol engine. In our front-wheel-drive test car, this was paired with a CVTand an electric motor. The advanced all-wheel-drive system also helps the RAV4 feel more confident on a curvy road. The system itself is different: there's a mechanical connection between the orthodox engine and an electric AWD system. This type of all-wheel-drive is a little more powerful than its gas-only sibling. RAV4 Hybrids have more power—222 hp—thanks to an electric motor paired to a nickel-metal-hydride battery pack squeezed under the rear seat. The RAV4 Hybrid can move up to about 64 kmph on electric power alone before the gas engine kicks on with a gentle rumble to help out. The RAV4 Hybrid's electronic CVT works well to keep engine revs low. The hybrid SUV offers a well-controlled ride, not too much body rock and roll, direct and light electric-assist steering and smooth, strong drivetrain response.
Author: Danny Stoyanova