25 September 2019
Chrysler 300 is one of the most popular models of the American car company. It has been in production since 2004, with 2005 pointed out as an official model year. The vehicle is a full-size luxury vehicle with a front-positioned engine. It steps on the company's specially developed LD platform. It`s closely related to Dodge's Challenger and Charger models. During the production of the 1st generation, Chrysler 300 was available as a sedan with four doors and as a station wagon. Its second and currently running generation (the model year 2011) is available only as a sedan with four doors.

© FCA Press Office
Chrysler 300's first generation marks the period between 2005 and 2010. During that time, the 300 Touring model was available only as a station wagon (combi) with five doors and seats. The generation features seven modifications -7 different engine configurations. Five of those modifications were officially introduced in 2004. One was added in 2005 and another in 2006.
The first 2004 Chrysler 300 came equipped with a 2.7 i V6 24V engine with 193 hp at 6400 rpm. The powerplant's position is front, longitudinal and has a 2736-cm3 (166.96 cu. in.) displacement. The fuel type used is petrol. As a top speed, Chrysler 300 Touring has 209 km/h (129.87 mph) and offers acceleration from 0 to 100 km/h in 11.1 seconds. The combined fuel consumption is estimated to be 11.2 l/100 km (21 US mpg/25.22 UK mpg). The kerb weight is 1725 kg (3,802.97 lbs.) while the maximum luggage volume, that the combi's trunk can house is the impressive 1602 l (56.57 cu. ft.). One of the most important specifications' numbers is the dimensions of the car. Here, they are 4,999 mm (196.81 in.) length, 1881 mm (74.06 in.) length, 1481 mm (58.31 in.) height and 3,048 mm (120 in.) wheelbase. Chrysler 300 2.7 i V6 24V comes with 4-speed automatic transmission and an RWD.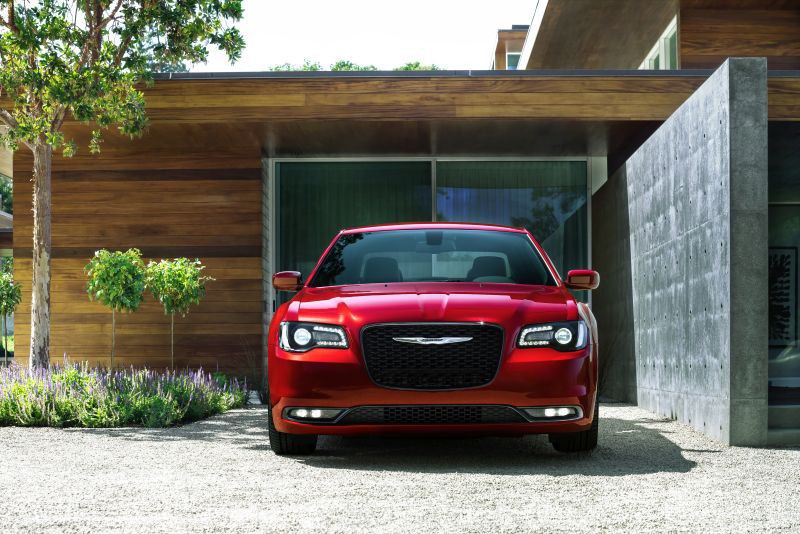 © FCA Press Office
Next modification is the Chrysler 300 3.0 24V CRD. It was introduced in 2006. The engine is front, longitudinal, with 218 hp at 4000 rpm. The type of fuel used is diesel. The estimated top speed is 227 km/h (141.05 mph). In just 7.9 seconds the car is capable to jump from 0 to 100 km/h. As a curb weight, this Chrysler 300 is 1875 kg (4,133.67 lbs.) while the maximum mass is 2360 kg (5,202.91 lbs.). As for the dimensions, this modification has a length of 5,015 mm (197.44 in.), a width of 1880 mm (74.02 in.), the height of 1475 mm (58.07 in.) and a wheelbase of 3,048 mm (120 in.). The RWD system is accompanied by a 5-speed automatic transmission.
2004 produced Chrysler 300 Touring 3.5 i V6 24V has a front, longitudinal 249 hp at 6400 rpm engine, paired with 4-speed automatic transmission. The combined petrol fuel consumption is calculated to be 11.3 l/100 km (20.82 US mpg/25 UK mpg). The acceleration from 0 to 100 km/h takes 9.2 seconds. The top speed is 219 km/h (136.08 mph). As a type of fuel system, Chrysler implemented a multi-point injection. The kerb weight is 1746 kg (3,849.27 lbs.) and its fuel tank could house up to 68 l (17.96 US gal | 14.96 UK gal).
The rest of the modifications share almost the same technical specifications - the automatic 5-speed transmission, wheelbase, and length. Differences, apart from the engine-generated power, are present in the height of the vehicles as well as the kerb weight and acceleration from 0 to 100 km/h. The top speed also varies in accordance with the car's engine and its capabilities.

© FCA Press Office
The sedan version of the Chrysler 300 comes with four doors and five seats. It was officially launched in 2004 and steadily grew in numbers - with fresh addition from 2005 and 2006. Some of the cars in it were discontinued in 2010, while others are still in production. The engines implemented are the same as those from the previous generation with an exception of one - an LWB 3.5 V6 (253 Hp). The generated power from the engines varies from 181 to 425 hp.
Chrysler 300's second generation includes five modifications of the luxury sedan and was in production from 2012 until 2014. Two new engines are introduced - a 5.7 and a 3.6 l. The generated power from the powerplants is 363 hp, 292 hp, and 286 hp. The generation received its facelift in 2015, sporting fresh new exterior/interior look as well as new specs. Along with the 3.6 and 5.7 l engines, a new, 6.4 SRT joined the line. The horsepower range varies in accordance with the modification specifications: 286, 296, 305, 367 or 476 hp.
Over the years, the manufacturer experimented and tested technologies and the underlying attitude of the markets - resulting in the creation of few concepts.
An interesting detail is that Chrysler 300 is known under another name in Europe - Lancia Thema.