12 February 2019
Take a deep breathe and imagine that we are in the deep future. Then our cars will not need a driver, and we will just enjoy the luxurious lounge inside and the beautiful sight outside. Meet a car that is coming from the future. Icona Nucleus is awaiting for a exciting voyage ahead in time.
The Italian group of Icona offers a complete range of services for vehicle development, including styling, engineering, and manufacturing of style models, show cars and prototypes. Well known with their super car – Volcano, now they reveal their new concept car – Nucleus. It represents the synthesis of futurism and a human-centered mindset. While the previous concept Neo introduced us to tomorrow, the Nucleus concept will introduce us to distant future.
Technical data
Powertrain:
Propulsion: Electric AWD
Power: 600hp
Drivetrain: 4 Еlaphe L1500 in-wheel - 110kW motors in wheels
Battery: 6-coils (300kg) by Bollore Blue Solutions
Hydrogen range extender: 5,3kg capacity at 700ps (for zero emissions)
Driving system:
Level 5 of authonomy by HoloMatic
Performance:
Acceleration: 0-100km/h - 3.5sec.
Combined Range: 1200km
Drag coefficient: CX=0.22
Ameneties:
Personal control
Center Travel Dashboard
Infotainment Media System
Mobile Office Access Kit
Wireless device charger
Refreshment:
Front wet bar
Dimensions:
Length: 5259mm
Width: 2115mm
Height: 1742mm
Weight: 2050kg
Wheelbase: 3310mm
Front&Rear tires: 205/35/R27 - Run flat system
Seats: 3 in high-luxury configuration or maximum of 6 adults
Ingress&Egress: Curb-facing walk-in access
Exterior
This next generation car, has a really stunning exterior design. Its look is stylish and beautiful, and the aerodynamic profile is perfectly shaped to move quietly through the air. The elegant design emphasizes the luxurious level of the Nucleus.
The asymmetrical body is divided into 2 portions by a diagonal line crossing the roof. Being fully autonomous, there is no side glass in the traditional sense, rather semi-transparent bodycolor panels that allow the occupants to see out from the vehicle but remain shrouded for privacy while traveling.
The upper glass from windscreen to the complete roof is asymmetrical, divided into fully transparent and semitransparent glass, giving a distinct visual cue that this vehicle is something truly different.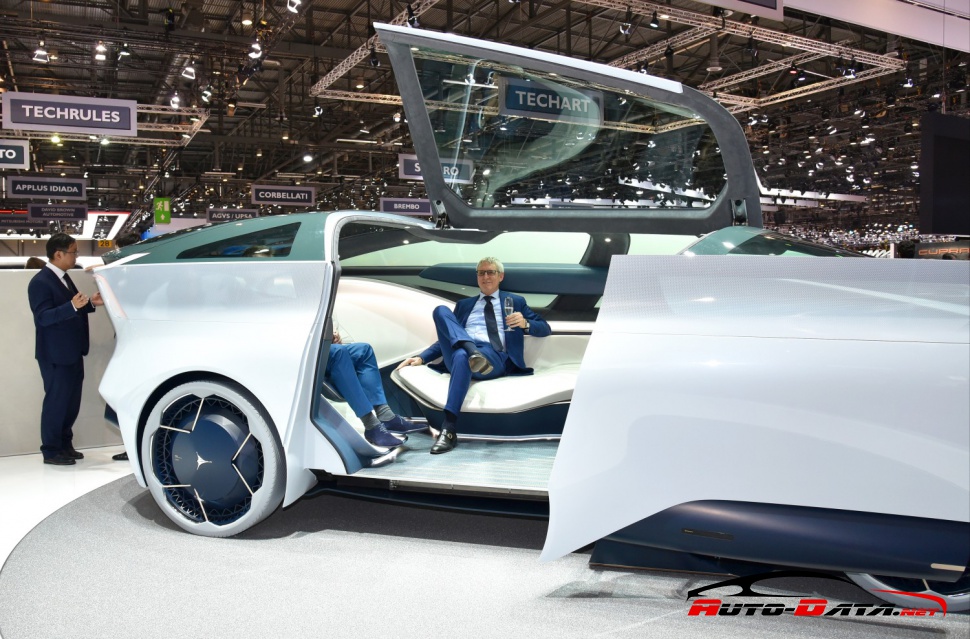 Interior
The Icona Nucleus is a self-moving executive lounge. It prioritizes the occupants' and passengers' interaction and personal space. The car can accommodate up to 6 people. The seats are adjustable and rotating to face the front or the rear . There is a table and front wet bar, that makes the cabin looks like a luxurious living room. The multidisciplinary infotainment system will entertain the passengers inside. Mobile Office Access Kit, all necessary spaces and connections for a laptop and Wireless Device Charger turns the cabin into a smart business or office space too. Being a large luxury car, Nucleus shows a more mature and peaceful world waiting for us.
Powertrain, driving system and performance
As everything else, the drivetrain of this car is really different and ultra-modern in comparison with all the other vehicles. The propulsion of Icona Nucleus is electric AWD, the power is up to 600 hp. The drivetrain is really intriguing : 4 Elaphe-technology L1500 in-wheel mounted motors drive the vehicle. Each wheel has its own 110kW software-operating motor. Nucleus has 6-coils battery by Bollore Blue Solutions that makes the car totally environment-friendly. Another green improvement is the hydrogen range extender, that ensures the zero emissions in the air. As we can expect, the self-driving car has its own driving system that totally replaces the driver. This futuristic car uses level five autonomy by HoloMatic. Icona Nucleus has an impressing performance too. Its acceleration for 0-100km/h is only 3.5sec. The combined range is up to 1200km, as the drag coefficient is only 0.22.
Unfortunately, it is still not sure if this conception will be pushed into production.
Author: Yordanka Stoyanova