26 September 2019
Polaris Slingshot is a futuristic-looking three-wheeler, manufactured by the American Polaris Industries. The company has a long history in creating snowmobiles, NEVs (Neighborhood Electric Vehicle), and all-terrain vehicles.
Slingshot was Polaris Industries' first attempt to enter the fast-paced and highly competitive automotive landscape. The vehicle was officially introduced to the public in 2014 as an upcoming 2015 model.
What makes the Slingshot so special is the fact that it gives the world a glimpse at the automotive future.
The Slingshot comes in few trim levels - S, SL, SLR, and Grand Touring. The common elements between those three levels are the steering wheel, which has a tilt-adjustable function, the bucket seats (placed side-by-side) and the waterproof interior (the gathered water can easily be drained from the 3-wheeler, thanks to the draining hooses).
Along with that, Slingshot has neither doors nor roof nor side windows. All of the Slingshot models come with a double wishbone as a front suspension and an anti-roll bar, implemented also.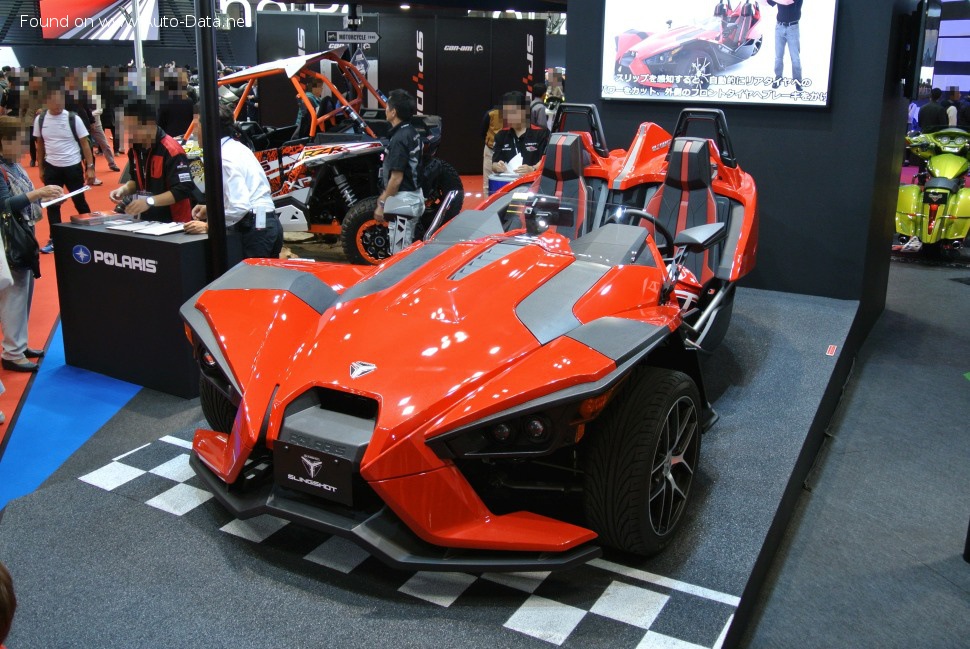 Rainmaker47 [CC BY-SA (https://creativecommons.org/licenses/by-sa/4.0)], from Wikimedia Commons
Under the bonnet of Polaris SL lies a 2.4 petrol engine with 173 hp @ 640 rpm and a torque of 225 NM@ 4700 rpm (165.95 lb.-ft.@4700 rpm). The powerplant's position s front, longitudinal, and has a max. speed of 7200 rpm and displacement of 2384 cm3(1456.48 cu.in.). The number of cylinders is 4, placed inline. Each cylinder has 4 valves.
Slingshot SL has a cylinder bore of 88 mm (3.46 in.) and a piston stroke of 98 mm (3.86 in.). The calculated compression ratio is 10.4.
The Slingshot SL sports some massive dimensions - 3800 mm length (49.61 in.), 1971 mm width (77.6 in.), 1318 mm (51.89 in.) of height and a wheelbase of 2667 mm (105 in.). As a front and ride height, SL has a 1755 mm (69.09 in) and 27 mm (5 in.).
The curb weight of the Polaris 3-wheeled motor vehicle is quite impressive - 7893 kg (17401.09 lbs). Its gasoline tank is capable to house 37.1 l (9.8 US gal/ 8.16 UK gal).
It's an RWD with ventilated disks as a front and rear brakes.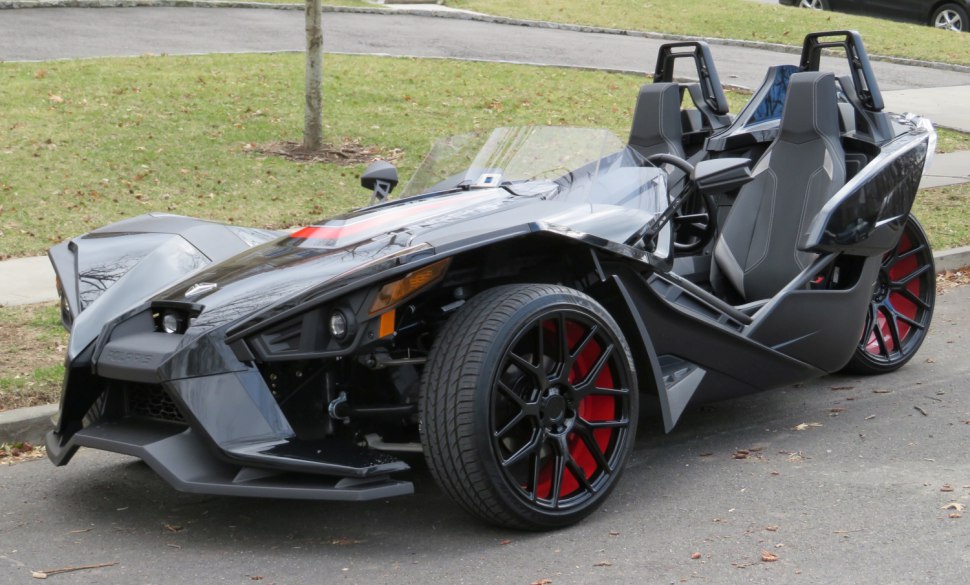 Kevauto [CC BY-SA (https://creativecommons.org/licenses/by-sa/4.0)], from Wikimedia Commons
The SL version comes with a 5-speed manual gearbox, but since 2018, the manufacturer offers also a 5-speed automatic one, as an option.
SL edition, as well as the SL LE, comes with a 17" front wheels and an 18" as a rear one.
An interesting fact is that the Slingshot has a steering wheel gearshift, brake shift, and a throttle pedals just like the conventional automobiles.
Side note: In the USA, depending on the State's laws, Polaris Slingshot can be registered as either an autocycle or as a motorcycle.