26 September 2019

© McLaren Automotive Limited
McLaren 570S made its official world debut back in 2015, during the New York International Auto Show. The ultra-luxurious supercar falls under the S class characterization and comes in two variant - a 2-door coupe (570S) and a roadster (570S Spider). The engine used is a 3.8 L V8 with 570 hp. The type of fuel used is petrol. The transmission is the 7-speed Graziano SSG dual-clutch.
The 570S model sports elegant aerodynamic outlines, combined with performance precision. The design of McLaren is inspired by several other cars of the brand - most notably the P1-looking rear end.
The 570S made its premiere in 2015 and has 3 modifications - S GT 3.8, GT 3.8 and a 3.8 V8. The engine's position is middle, longitudinal, in all of the 3 modifications.

© McLaren Automotive Limited
The standard 3.8 V8 has a curb weight of 1344 kg (2963.01 lbs.). Its length is 4530 mm (178.35 in.), while the height and wheelbase are 1200 mm (47.24 in.) and 2670 mm(105.12 in.). According to the specs sheets, McLaren 570S 3.8 has an extra-urban fuel consumption of 8.1 l/100 km (29.04 US mpg/ 34.87 UK mpg).
The GT version has the same specs numbers, as the standard one. The S GT modification, however, differs in terms of dimensions. Its length is 4606 mm (181.34 in.), the wheelbase and height are 2674 mm (105.28 in.) and 1644 mm (64.72 in.) according to the specifications sheet.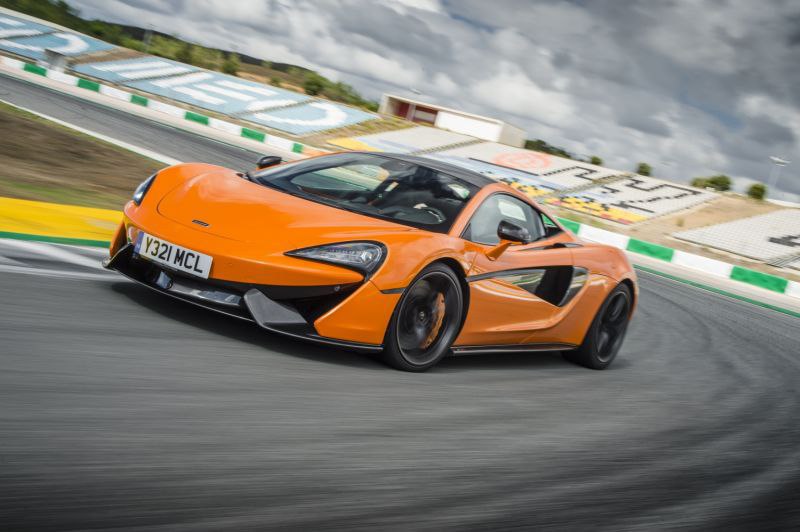 © McLaren Automotive Limited
The 570S Spider arrived in 2017, with a public reveal during the Goodwood Festival of Speed. The car bears some of the most profound traits of McLaren's Super Series. Again, it runs on petrol (gasoline). It is capable to accelerate from 0 to 100 km/h in 3.2 seconds and from 0 up to 200 km/h - 9.6 seconds.
The maximum speed is the same as with the other cars - 328 km/h. The curb weight is 1498 kg. The dimensions of the sports car are 4530 mm length (178.35 in.),1930 mm (75.98 in.) width, 2670 mm (105.12 in.) wheelbase, and 1202 mm (47.32 in.) height. It's an RWD with double-wishbone as front and rear suspension. The implemented transmission is again the 7-speed SSG dual-clutch.