02 January 2020
Although 2019 was not the best year for the American automotive industry, it wasn't disappointing too. The American car market had the chance to get close to a variety of outstanding passengers and heavy-duty vehicles. Some long-forgotten nameplates had the chance to resurface with a new appearance, while other car brands offered prospective buyers the next stage of automotive evolution in terms of exterior aesthetics and a stack of innovative assistant technologies. Here on carbibles.com you can find accurate and helpful automotive information, practical advice, and useful product reviews for your car.
SSC Tuatara
The first place belongs to one of the most anticipated by automotive enthusiasts cars, SSC Tuatara. After a long wait, the second-fastest car on Earth entered its production stage. This means that in 2020 we will finally be able to see it on the road. Hidden under its bonnet lies a powerful, bespoke 5.9l V8 twin-turbo that supplies the elegant Tuatara with immense power - from 1350 up to 1750 (depending on the fuel). Thanks to it, this unique sprinter is capable to reach a top speed of 412 km/h.

Corbin Harder [CC BY-SA 4.0 (https://creativecommons.org/licenses/by-sa/4.0)]
Shelby GT500
The iconic Shelby is probably one of the most popular American-built vehicles ever. From the dusty highway to the movie screen, Shelby symbolizes the American progress and thirst for freedom. So it comes as no surprise that the new GT500 is among the best cars of 2019. Pumped up with a supercharged 5.2l V8 engine, this staggering automotive masterpiece has 760 horses under its bonnet.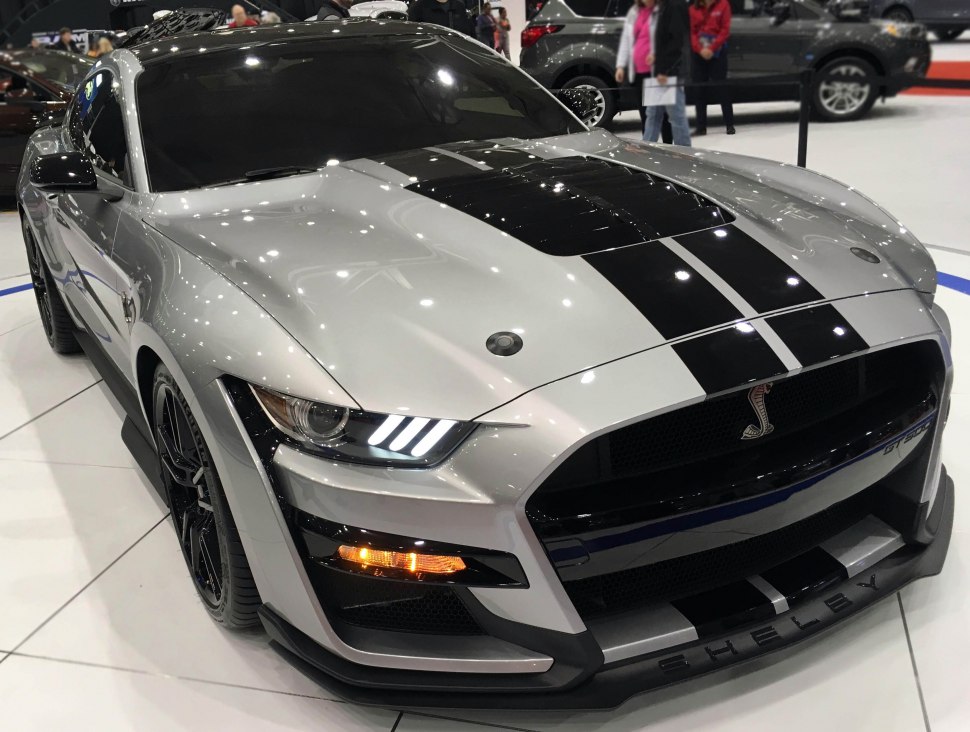 Syntaxlord [CC BY-SA 4.0 (https://creativecommons.org/licenses/by-sa/4.0)]
Dodge Charger
The all-time American favorite, Dodge Charger, is in preparation to introduce itself in another, more sporty version - Widebody. The fresh addition to Dodge's family is ready to offer its potential owner over 700 HP and a top speed of about 317 km/h.
Jeep Cherokee
Big, yet agile, Jeep Cherokee is something the American automotive industry must be very proud of. The fresh 2019 Cherokee edition combines comfort with pleasure, power with safety. Thanks to its turbocharged 2.0l engine, Cherokee harnesses the power of 270 hp. The easy-to-drive 2019 Jeep snaps a top position in almost every car ranking in the USA.
Ram 1500
Another representative of Dodge's rich portfolio has made its way to the best 2019 cars in US and that's Ram 1500. This massive pick-up truck has made a name of its own, thanks to its towing capabilities and practicality. Along with the powerful engines, Ram 1500 is proudly using hybrid power trains.

©FCA Press Office
Ford Explorer ST
The fresh face of the Explorer production line, ST trim, takes its rightful place in the Top 10. The 2019 Explorer ST derives its power from a powerful 3.0 V6 engine, generating 400 hp. Elegant and spacious, Explorer ST is an unprecedented hit in the 2019 automotive market.
Lincoln Aviator
After a long period of turmoils, one of the oldest car manufacturers in the USA, Lincoln Motor Company, is ready for its big comeback on the automotive scene. It's been 15 years since the Aviator nameplate has appeared under the limelight. This means that the fresh-faced Aviator is nothing like its predecessor. With its clear outlines, compact cabin, a stack of modern technologies, sporty and agile nature, it's not a surprise that the 2019 Aviator is one of the best American cars of 2019.
©THE FORD MOTOR COMPANY
Lincoln Navigator
Lincoln Navigator, Aviator's big brother, also has stolen the hearts of many Americans. The gentle giant is a combination of smart technologies, aesthetical and high-quality interior and exterior, and an astounding performance. The powerful V6 engine is accompanied by a variety of assistant systems like driver fatigue warring, lane keep and departure alert warnings, pedestrian detection, and parking help.

©THE FORD MOTOR COMPANY
Ford Expedition
The muscular Expedition is one of America's most favorite vehicles for 2019. Spacious, agile and stable, the enormous SUV steals the attention not only because of its outstanding road performance but also because of the huge array of modern technologies, stacked underneath its skin. Things like the ultra-modern SYNC 3 infotainment system and a huge list of assisting systems ensure the pleasant and safe ride of driver and passengers.

Alexander Migi [CC BY-SA 4.0 (https://creativecommons.org/licenses/by-sa/4.0)]
Chevrolet Corvette C8
Another American icon in this ranking is the monstrous Chevrolet Corvette C8 Stingray. Available both as a convertible and coupe, the Corvette C8 is one of the most powerful cars that has ever walked out of Chevrolet's production halls. Under the bonnet of the sprinter lies hidden a 6.2 V8, generating the incredible 495 hp.

©GM Company
Honda Ridgeline
Equipped with a powerful 3.5l V6 engine with 280 hp, the enormous Ridgeline pickup is nothing like the rest in its vehicle class. Stable and maneuverable, radiating coziness, practical and very responsive to its driver's desires, Ridgeline has found its rightful place in the hearts of the American drivers.

Kelvin Eng [CC BY 4.0 (https://creativecommons.org/licenses/by/4.0)]