28 February 2020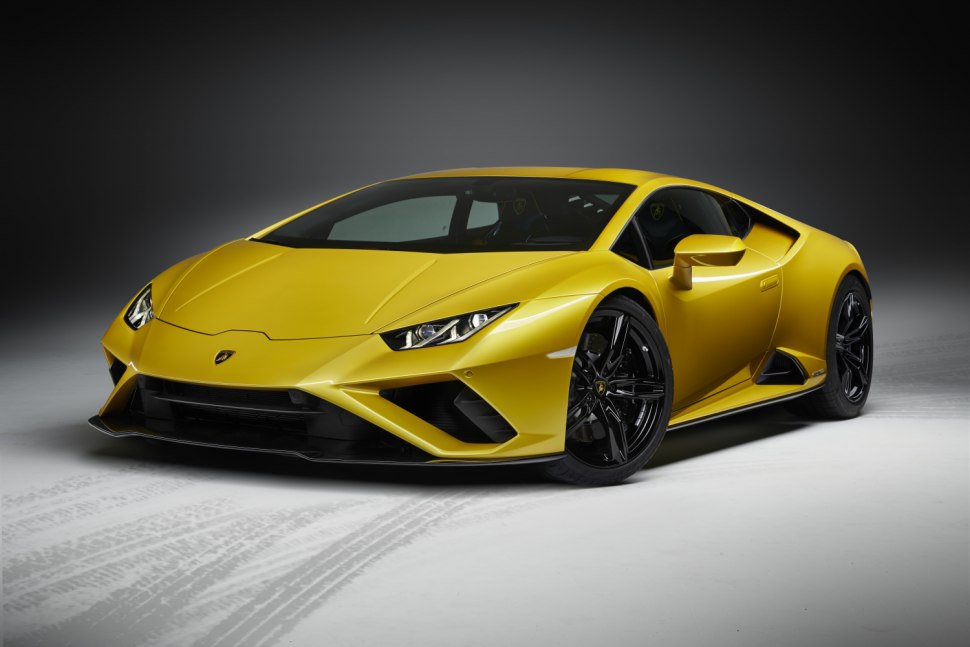 Credits: Lamborghini Media Center
Lamborghini starts the new 2020 with the premiere of the exceptional Huracan EVO RWD. Inspired by its predecessors, the new rear-wheel-drive Lambo Huracan goes back to the very roots of the sports cars – taking them out of the race track and putting them in everyday use.
Despite the absence of prominent transformations on the exterior, the new EVO RWD sports some fascia changes. Perhaps the most important of them is the updated front splitter and the massive front air vents. A significant feature of the latter is the vertical fins, incorporated inside of them – for better aerodynamics.
At the rear, the stylish Lambo has also undergone some refreshments. The prominent and elongated glossy bumper, along with the unique rear diffuser, transform the EVO RWD into one-of-a-kind, Lamborghini. A brand new, specially-created shade of the iconic yellow color, called Giallo Belenus, completes the outstanding silhouette of the car. The same color is used for the leather interior, too.

Credits: Lamborghini Media Center
A vast list of driver-assistance and innovative smart systems have found their place in the Lamborghini Huracan EVO RWD supercar. Among the most significant ones is the infotainment system's huge high-resolution touchscreen. The standard 8.4-inch display offers the driver intuitive and easy navigation and access to the car's functionalities. Apple CarPlay compatibility, smooth less Internet browsing, and phone calls and Siri's voice command assistance are also available. An important addition to the car's optionalities is the Lamborghini Dinamica Veicolo Integrata computer connection.
Slightly smaller than its predecessor, EVO RWD is 4,520 mm long, 1,933 mm wide and 1,165 mm high.
The new Lamborghini proudly sports its agile lightweight body (just 1,398 kg), thanks to its thermoplastic resin construction and hybrid aluminum-carbon chassis.
Under the bonnet, the Italian machine derives power from a 5.2-l V10 engine that's capable to generate up to 610 hp. Combined with a refined 7-speed DCT automatic gearbox, the naturally aspirated power plant transfers its torque to the rear pair of wheels.

Credits: Lamborghini Media Center
As a top speed, the car has 325 km/h. Huracan EVO RWD comes with three driving modes – Strada, Corsa, and Sport. Sure enough, for a car with the size and technical parameters of the Lamborghini, it's normal for the fuel consumption to high. In the case of the EVO RWD, it is 13.8 L per 100 km.
Due to its extreme sports characteristics, Lamborghini's team of professionals has integrated the best in the segment safety systems. Specially developed front airbags and unique steel brakes with a cross-drilled perforation are just a small part of them.
Also, in terms of ensuring the car's stability during fast and sharp cornering, an important traction control management system is added – a P-TCS.