03 May 2019
Inspired by the racing model Vantage GTE, the newest Vantage AMR aims to deliver extreme driving experience, that only a manual car can offer. Releasing this latest model, Aston Martin fulfills their promise for a manual sportscar with an engaging experience.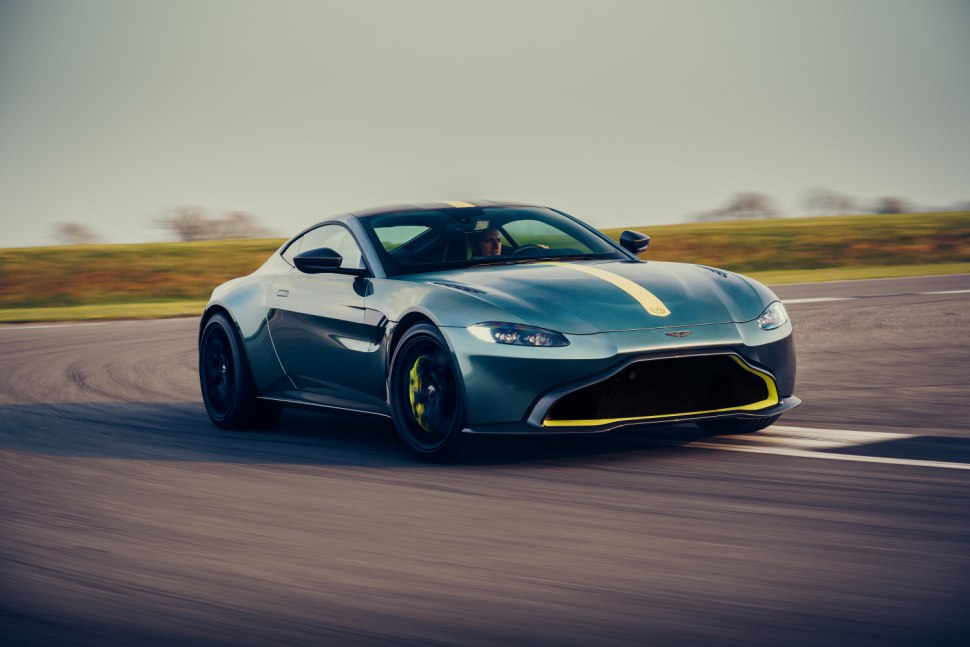 © Aston Martin
Design, exterior and interior
Vantage AMR will be produced in the total number of 200 units. 59 of them will be crafted in celebration of the 60th anniversary of Aston Martin's win at 24 Hours of Le Mans (1959) - as specifiacaton named "Vanatage 59". It features some specific details, bringing back the spirit of those glorious days:
Sterling green and lime exterior paint scheme
Dark Knight leather and Alcantara interior upholstery
Carbon Gloss exterior element - roof, mirror caps, bonnet vents

© Aston Martin
The anniversary trim also offers excellent comfort for the driver, featuring numerous modern technologies in the standard equipment:
dual-zone climate control
front and rear parking sensors and auto-park assist
keyless entry
blind spot monitoring
360-degree camera
touchpad screen

© Aston Martin
The rest 141 units are to be produced in Vantage Hero specification. Their future owners have the ability to choose from 4 exterior paint options:
Sabiro Blue
Onyx Black
China Grey
White Stone
The standard equipment in interior and technology pack in this trim is not far from what is offered for Vantage 59 specification.
Both variants of Vantage AMR has a long list of optional features and amenities that provide the vehicle with extreme luxury.

© Aston Martin
Powertrain and Drivetrain
Under the hood, Aston Martin Vantage AMR is housing a new alloy 4.0-litre V8 engine. The motor generates 510hp and provides a 625 Nm of torque. The new elegant model of Aston Martin accelerates from 0 to 100km/h in only 4.0sec and has a top speed of 314 km/h. These performance numbers sound good for a sportscar like Vantage AMR, but what is really impressive is the drivetrain and transmission of that vehicle.
What is unusual for this particular Vantage AMR is the manual Graziano seven-speed Transaxle transmission with first dog-leg gear, and the rest gears (from 2 to 7) positioned in a traditional double-H pattern.

© Aston Martin
Limited slip differential (LSD) ensures the engaging experience of the special manual gearbox. The drivetrain includes an AMShift also. This is a system consisting of clutch, sensors and engine management program, paired together to result in a smooth deceleration, acceleration and cornering stability.
Vantage AMR is already on sale with a price of nearly €200 000. The first deliveries are scheduled to start during the last three months of 2019.
Author: Danny Stoyanova