23 April 2019
One of the most beloved and cherished Aston Martin generations, the 2005 V8 Vantage, is being sent into history. For over 12 years, devoted fans of the brand and enthusiasts from all around the world, had the pleasure to drive and see the evolution of the V8 Vantage. However, the British car manufacturer has decided to once again break stereotypes by shutting down the previous generation and introducing a new, re-polished version of the Vantage. More powerful, fabulously stylish and extremely fast, the 2018 Vantage's mission is to beat the competition in its segment and ensure the brand's place among the best in the world.
It is interesting to mention that the new Vantage shares the same platform as the recently debuted DB11 model. A huge part of the components (about 70%), used to assemble the vehicle, are unique work - created especially for the new Aston Martin.
But let's focus on the technical parameters of this true athlete. The Vantage comes equipped with a 4.0 V8 (510 Hp) engine (created via the collaboration with AMG), pared with an 8-speed automatic ZF transmission. The coupe's to speed is 314 km/h and is able to sprint from 0 to 100 km/h in 3.7 seconds. The fuel system is direct injection. The compression ratio is 10.5. Both, front and rear brakes are ventilated discs. The 2018 V8 Vantage runs on petrol. The weight distribution is 50:50. Last, but not the least important, the newbie Vantage comes with something new for the entire brand's car line - a differential with torque vectoring, which is being electronically controlled.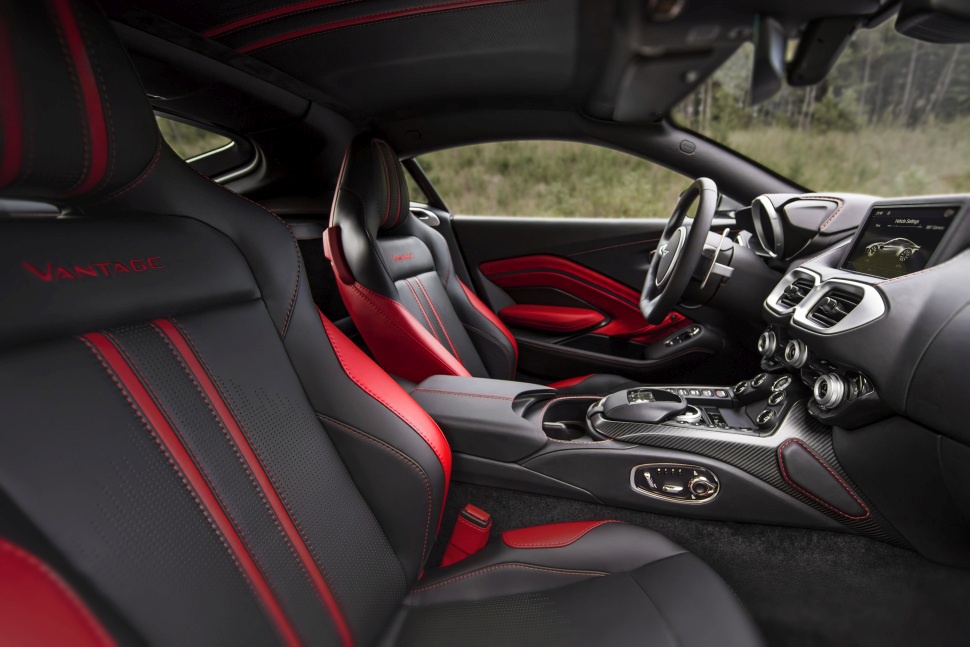 Just by looking at the V8 Vantage, one cannot deny its fascinating and refined features. The prominent front and slim rear lights, combined with specially crafted fences, diffuser and splitter are small but important details, that represent the bespoke craftsmanship of Aston Martin. The DB11-resembling interior is anything but typical for a sports car. Inside the spacious cabin, the driver's comfort is ensured by the exquisite leather seats. The responsive steering wheel gives the drive full control over the car and its movements. The cleared central console and dashboard provide the drive with a grip on the most important systems in the car. Innovation and connectivity are on focus when speaking of the V8 Vantage important new features.
If we have to describe the new V8 Vantage in just few words, then they would be - aesthetics, superiority and precision.
- Aston Martin Vantage Specifications
Author: Diyana Ilieva