24 April 2019
Volvo has recently unveiled its facelifted version of their flagship SUV - XC90 2019 PHEV. Along with the minor exterior changes, some interior, powertrain technology updates take place in the new model.
Exterior
Outside, changes are almost invincible. A notable change is the slightly revised concaved front grille. Volvo adds some more variants in the exterior paint palette - the most impressive of them is the Crystal White Metallic. The facelifted SUV's masculine profile is enhanced by redesigned alloy wheels.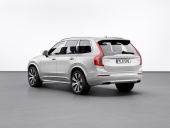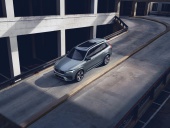 Interior
Volvo adds some new features and options for the new version of its flagship model. The new 2019 XC90 is available with 4, 6 or 7 seats inside. The infotainment system is also new. Android Auto and Spotify are available alongside with AppleCar Play. The central display is now portrait-mounted. The new plug-in XC90 has some additional safety features:
Oncoming Lane Mitigation System
Cross Traffic Alert with Autonomous emergency braking
City Safety with Autobrake - recognizing pedestrians, cyclist or animals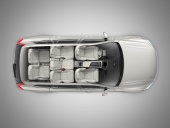 Technical specs
Engine Description: Direct-Injected Turbo & Supercharged Engine with 87 hp Electric Motor
Drivetrain: All-Wheel-Drive
Number of Cylinders: 4
Engine Displacement: 2.0 Liters
Horsepower: 400 hp
Torque: 640 Nm
Fuel Type: Electric / Gasoline
Powertrain
The new Plug-in Mild Hybrid combines a gasoline engine with electric power using a smart KERS (Kinetic Energy Recovery System) technology that reduces the energy loss during deceleration or braking. The generated power is later re-deployed during acceleration. This way, the fuel consumption is reduced and the vehicle's performance is enhanced to a higher level.
For now, only T8 engine is paired with a Plug-in Hybrid System. The manufacturer plans to add hybrid powertrains to the following engine ranges: T5, T6, D5, B5, B6, and B6 diesel. All of them are just re-badged to show the new technology in Volvo's line.
According to Volvo, the new PHEV has reduced emission and fuel consumption up to 15%.
The expected release date is sometime by the end of the year.
Author: Danny Stoyanova