24 April 2019
Since its introduction in 2003, more than six million units of Mazda3 have been sold worldwide. Now the next-gen Mazda3 is pushed into production line for the European market.

© Mazda Motor Europe GmbH
Design
Jinba Ittai philosophy is based on the idea for unity of the human and machine as one whole. It forms Mazda's Kodo design that builds a vehicle with clean and simple outlines, but still looking elegant. Soft and round shapes draw out the new Mazda3 silhouette. Two new colors, Polymetal grey and Soul Red Crystal, impress with their different shades depending on the lightning and its angle. The new generation is available as hatchback and fastback.
Exterior
The exterior design of the all-new Mazda3 has some significant improvements compared to the predecessor. A great percentage of ultra-high-tensile steel (for example in C pillars and door frames) makes the Mazda3's body light and really strong. LED headlights with slim 3D-shaped openings are part of the basic trim. The front grille is huge and stylish, featuring glossy black-dot structure. While the hatchback version looks really compact vehicle, the fastback shows prominent elegant style. When it comes to wheels, the all-new Mazda3 offers a lot of options to choose from. The base model is with 16 inch alloys in shiny silver. Depending on the trim level there's an alternative for 18 inch-alloys in a variety of colors. Redesigned taillights adds a modern touch to the sophisticated car profile. A rear wing of the hatchback in a contrasting black adds some character to the new Mazda3 look. Two massive exhaust pipes finishes the mature and powerful spirit of the vehicle.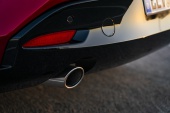 Interior
The first notable improvement in the interior are leatherette cover, soft-touch elements and new window levers on the door panels. The 2-way adjustable steering wheel, with multitude buttons integrated, offers more comfort and easy access for the driver. The dashboard compiles leatherette cover with contrasting stitches and soft-touch top covering. The instrument panel of the next-gen Mazda has a 7 inch TFT display. Mounted in the center of the dashboard is a big 8,8 inch non-touch screen, controlled by a commands selector in the lower part. The all-new Mazda3 offers more comfort and coziness due to its improved seats' design.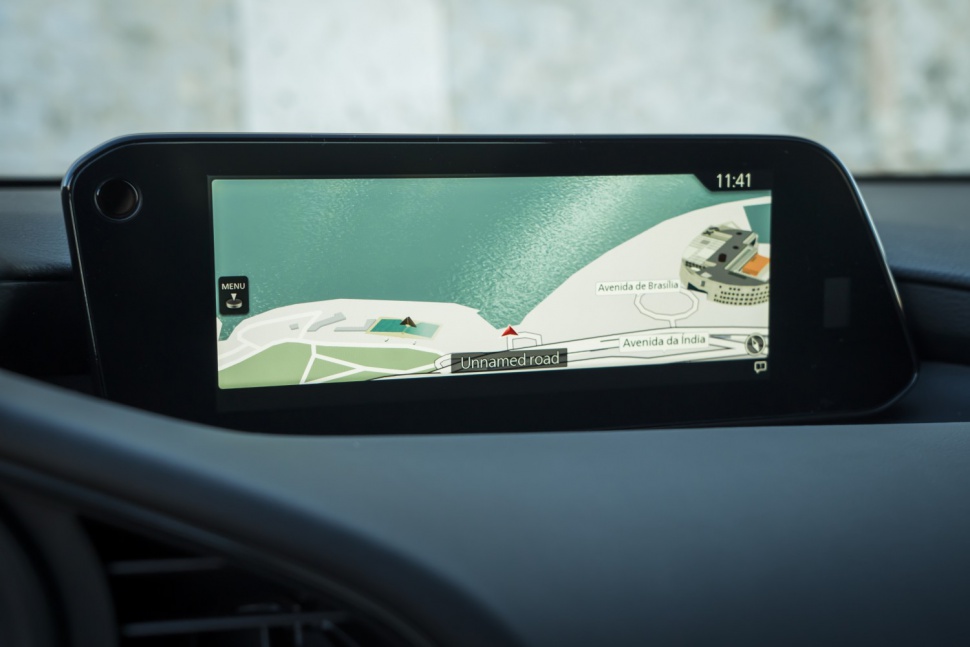 © Mazda Motor Europe GmbH
The base model comes with breathable soft-touch textile upholstery, that keep seats cool in summer and warm in winter. A real animal skin upholstery or heated seats are available as an option. The new Mazda3 comess with panoramic roof with cover, that easily opens manually. The most remarkable innovation is the projectable Active Drive Display that casts the car parameters in the lower part of the windscreen, just in front of the driver. There are two USB port, a SD card slot and 12V power supply hidden in a storage box under the sliding and flipping middle armrest. Along with the standard Apple Carplay or Android Auto, the all-new Mazda3 is enhanced with Bluetooth smartphone connectivity. Back seats of the fastback are with improved forms and design, but the legroom is still small. In the hatchback version rear seats can be easily flipped, forming almost completely flat and easy accessible trunk. The volume of the luggage space is significantly increased in comparison with the previous model. The audio system in all-new Mazda3 offers 8 or 12 speaker Bose system ensuring the highest quality sound in the car.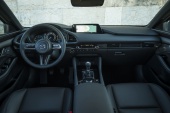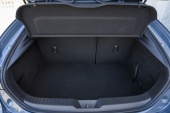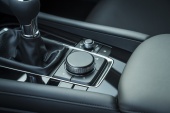 Powertrain
The Mazda3 2019 comes with a variety of engine types. Both hatchback and fastback base models are equipped with standard diesel or petrol engines (Skyactive-D and Skyactive-G), paired with manual transmission. An automatic transmission is optional. Along with the next-gen model, Mazda introduces and new type of engine- the Skyactive X. It combines the best of diesel and petrol engines technology. The result is a petrol compressor engine with self ignition, that offers more power and less consumption. Only Skyactive X engine is compatible with AWD system in Mazda3 lineup.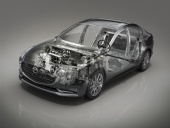 Here is a list of European engine line:
2.0 SkyActiv-X (181 Hp) AWD Automatic
2.0 SkyActiv-X (181 Hp) AWD
2.0 SkyActiv-X (181 Hp) Automatic
2.0 SkyActiv-X (181 Hp)
2.0 SkyActiv-G (122 Hp) Automatic
2.0 SkyActiv-G (122 Hp)
1.8 SkyActiv-D (116 Hp) Automatic
1.8 SkyActiv-D (116 Hp)
Skyactive-X and Skyactive-G version can adopt Mazda's Mild Hybrid 24V system.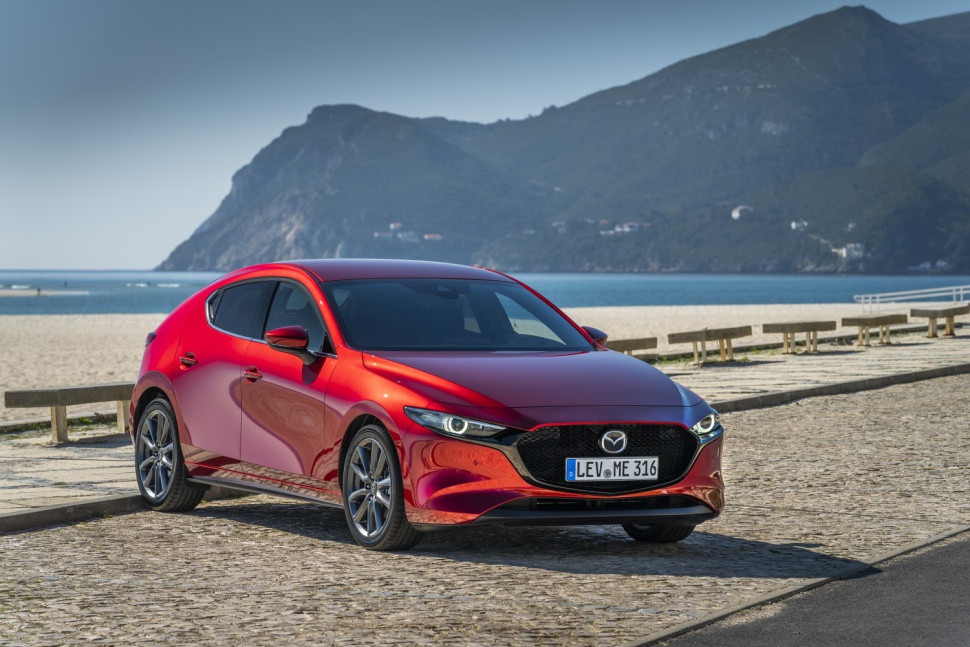 © Mazda Motor Europe GmbH
The All-New Mazda3 is equipped with various safety features:
newly developed Driver Monitor System detects fatigue.
FCTA - New Front Cross Traffic Alert ensures greater safety at T-junctions.
CTS - New Cruising & Traffic Support assists with accelerator, brake pedal and steering operations.
ISA - Newly available Intelligent Speed Assistance prevents unintended speed limit violations.
Newly available 360° View Monitor offers an allround view of the car's immediate surroundings.
New knee airbags and revised seat belt design protect occupants better.
© Mazda Motor Europe GmbH
This next-gen Mazda3 embodies Mazda's view of simplicity and pure elegance. The combination of clear soft forms and human-centered interior results in a remarkable harmony between the driver and the vehicle.
Author: Danny Stoyanova