24 April 2019
Another version of Lamborghini Huracan Evo was revealed - meet the convertible Spyder.
The Italian manufacturer presented its newest Lamborghini Huracan Evo Spyder just a few days before its official debut at Geneva International Motor Show 2019. After introducing the Coupe version just weeks ago, now the company shows the convertible Spyder.
Created to amplify the driving experience to the max, the new supercar offers better and easier handling, redesigned fascia and unique emotion.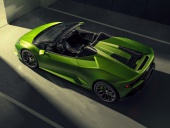 Exterior
The convertible top leads to some significant changes in the vehicle's outline. Larger intakes, redesigned diffusers, and higher exhaust are the most notable of them. Sophisticated 20-inch "Aesir" wheels emphasize the sporty look. All the changes are part of the natural evolution of Lamborgini Huracan Evo.
Interior
The cockpit is as evolutionary as the exterior. An 8,4-inch display mounted to the central console controls the AppleCar Play compatible infotainment system. Three options are available for the upholstery: leather, Alcantara and the new Carbon Skin. The latter is new carbon-fiber material exclusively available with Lamborghini.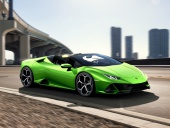 Driving systems
To ensure easier handling and better performance, Lamborghini updates the driving system too. LDVI (Lamborghini Driving Vehicle Dynamics) is the brain of Evo Spyder. The system "learns" from the driver's behaviour, and is capable to predict Evo's driver's intentions and to be always "a step ahead". This is real evolution. HMI (Human Machine Interface) allows the driver to control driving dynamics, infotainment or to receive real-time information by a single finger tap. That system has two telemetric cameras integrated, used to improve the driver's skills. Enhanced aerodynamics helps the car to be more stable when braking, cornering or maneuvering.
Under the hood
A lot of changes are done under the hood. The software commanding the traction and stability control, rear wheel steering and the wheel-drive system is updated to a higher level. The new Lamborghini Huracan Evo Spyder offers three outstanding driving modes - Strada (street), Sport and Corsa (truck).
The supercar is powered by a 5.2l naturally-aspirated V10 engine, producing a torque of 600Nm. Evo Spyder is using electronically controlled Haldex AWD system and 7-speed dual-clutch gearbox. Another important driving feature is the rear mechanical self-locking differential.
Spyder continues Huracan Evo's revolutionary idea by being extremely easy to drive, highly responsive, super sports car. The new model offers all the amenities of the coupe but with the extra ability to enjoy open-roof motoring. Elegant and masculine, the Lamborghini Huracan Evo Spyder cannot remain unrecognized on the road.
- Lamborghini Huracan specifications
Author:Danny Stoyanova