24 April 2019
Established by the famous car designer Giorgetto Guigiario and his son, GFG Style company presented their new concept - Kangaroo at this year's Geneva International Motor Show.
It is a pure-electric hypercar, pretending to be a real sporty SUV. With its light and elegant angular body, made of carbon fibers Kangaroo is quite attractive.
Exterior
The sporty hypercar offers new headlight technology and adaptive front spoiler. The rear underlines the sporty look of GFG Kangaroo with its large air outlet. The LED crystal's prisms used for the taillights provides an unique jewel effect at the car's rear. Innovative and outstanding are the accessibility features of the new concept - gull-wing opening for the upper part of the dome, and scissors-like opening for the doors. Depending on the trim level Kangaroo can feature the GFG Aluminium frieze or a signature of GFG Style prototypes.
Interior
GFG Style Kangaroo's cabin offers excellent comfort with specially designed cushion fitted seats with carbon structure. The dashboard features 3 displays. The first one provides information about the surrounding of the car and operates as a big rear-view mirror. The second one is positioned behind the steering wheel and shows the vehicle's general functions. The third, and last one is mounted on the central console and is related to infotainment and navigation systems. Combination between Carbon-printed leather, real leather and Special fabric upholstery, gives Kangaroo's interior sportiness and practicality.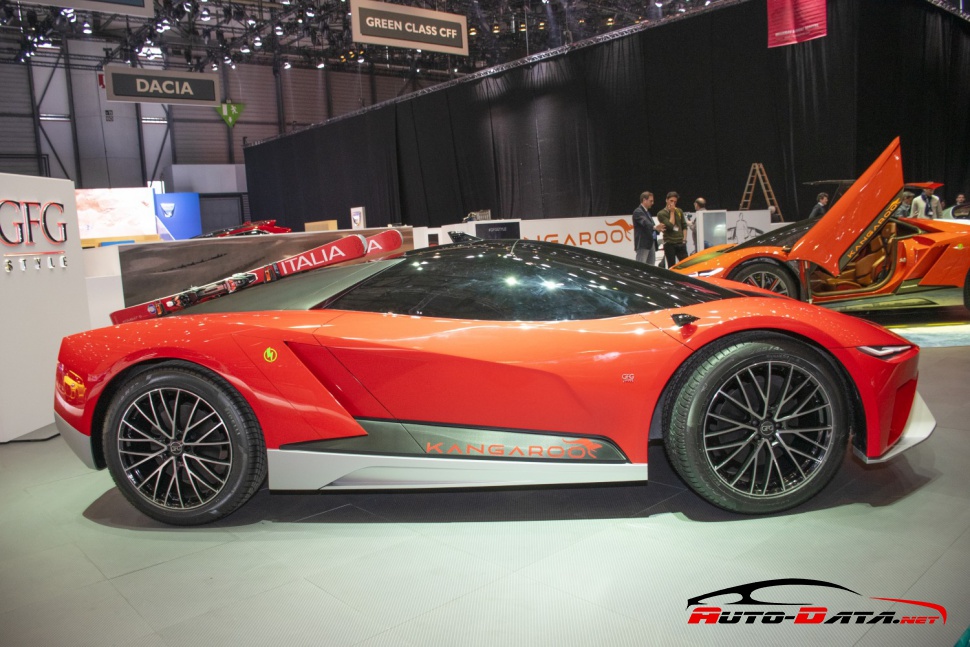 GFG Style Kangaroo is designed as a 2-seater vehicle, four-wheel drive and four-wheel steering systems. Supplied with two electric motors (18kW each) and a 90kWh battery, the hyper-SUV has a range up to 450km. GFG Kangaroo's technical specs, are also outstanding:
Wheels: 22 inch
Acceleration: 0-100kmph in just 3.8sec
Top speed: electronically limited 250kmph
Combined power: 483hp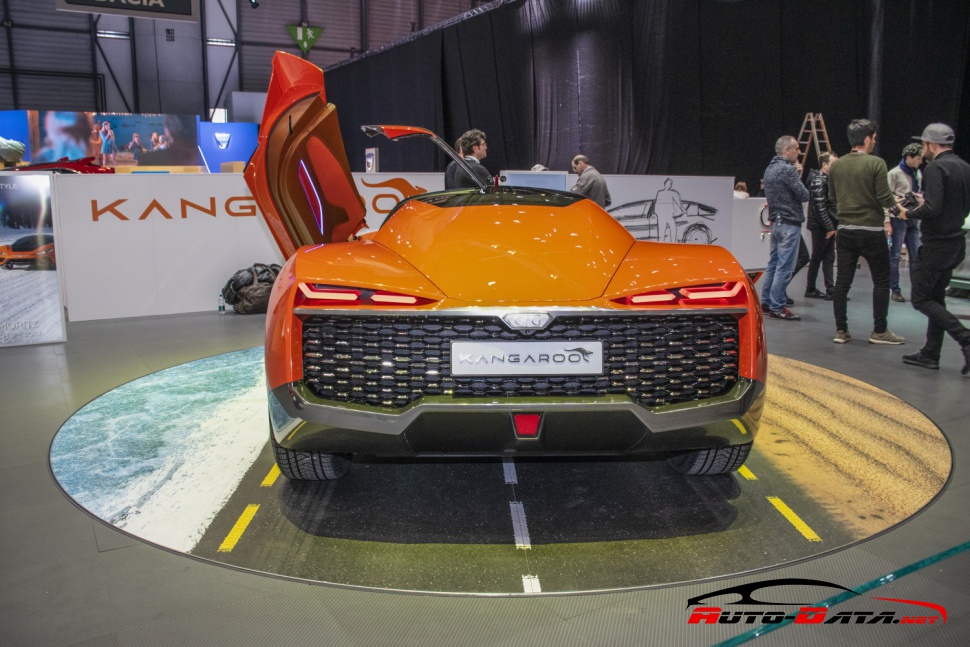 GFG Kangaroo offers three different settings for vehicle's ground clearance - Racing (140mm), Road (180mm) and Off-road (260mm). This feature allows the hypercar car to become a real SUV.
Thanks to its functionality, technology and styling GFG Style Kangaroo is a match for any terrain. Although the cool concept already has its debut at GIMS 2019, it's still unclear if it'll ever head to production.
- View GFG Kangaroo specifications
Author: Danny Stoyanova