02 May 2019

© Audi AG
The innovative TDI engine of Audi from S5, S6 and S7 TDI models now find its place in the Audi S4 Avant and Sedan. Due to its unique electric powered compressor, the new S4's motor provides instant response and excellent performance.
The cabin of the newest S4-models offers typical sporty equipment - black color schemes, contrast stitching, specific seats' upholstery and design. For the cabin are used high-quality materials to ensure excellent comfort for the passengers and the driver.

© Audi AG
Under the hood both S4 Avant and Sedan gets a 3.0-liter TDI engine that generates 255 kW (347 hp) and delivers up to 700 Nm (516.3 lb-ft) of torque. The electric powered compressor is Audi's newly developed technology that succeeded in eliminating the much-dreaded turbo lag and provide an instant response of the engine. In order to reduce S4-models' emissions, a mild-hybrid system is also available.

© Audi AG
Fuel consumption and CO2 emissions are also enhanced in the S4 Avant and Sedan TDI models:
Combined fuel consumption in l/100 km: 6.3;
Combined CO2-emissions in g/km: 165 - 164;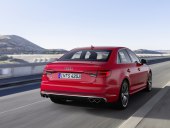 A dynamic all-wheel steering is making its way to the new Audi S4. In combination with the standard quattro permanent AWD, an impressive rigidity and stability is ensured in any road condition.
Audi S4 Avant and Sedan implement technology of highest level and provide the customers with an outstanding driving experience.
Author: Danny Stoyanova